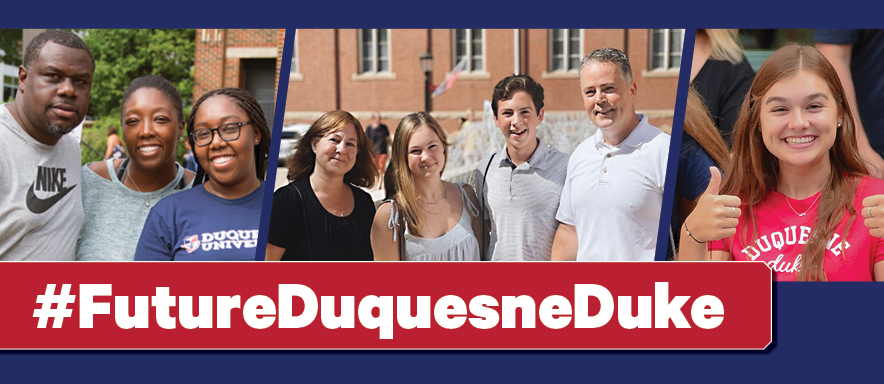 Admitted Student Day: The Main Event
Sunday, April 16th: 9:00 a.m. - 3:00 p.m.
Best for admitted high school seniors and transfer students (check out our transfer admitted student day on May 18th as well!) who want to spend a full day on campus, learning about the resources and programs available to them as a Duquesne student.

Admitted student and their guests will have the opportunity to tour campus, see a residence hall, hear from campus organizations, as well as spend time with their academic school or college.

You are welcome to join us for the whole day or just a portion. 
School of Music Admitted Student Day (Music Showcase) - 

Saturday, March 25
Admitted Student Academic Showcase 
Limited space available!
Includes an admissions presentation, student panel, and campus tour.
Connect with representatives from your academic school or college and learn more about the programs available.
Student Life Fridays
Limited space available!
9:00 a.m. - 12:00 p.m. on select Fridays throughout March and April: March 31, & April 14

Our March 31st event also includes the option of attending a fish fry hosted by Catholic Studies and the University Honors College!

Includes an admissions presentation, student panel, and campus tour.
Connect with current students and attend a student involvement expo to meet with over 40 organizations and clubs! 
If you cannot find an event or date that works with your interests and/or schedule, let us know at visitduquesne@duq.edu and we would be happy to assist!
Duquesne in Your Area
Duquesne is taking our show on the road! Check out our events below to see where and when we will be hosting receptions for admitted students and their families. 
Join us virtually from the comfort of your home! Register for a visit with admissions, financial aid, alumni, schools, and much more! Use the calendar tool to register for any of our virtual events.
Virtual Admitted Student Events
Alumni Panels -
L
earn about the Duquesne experience from those who know it best -- members of our alumni community. There are sessions available for each school and college.
April 6 (Sciences), April 12 (Honors College)
Ask us Anything - 
Current students will be live to answer your questions about student life, living on campus, their favorite study spots on campus, the city of Pittsburgh, and more!
Dining at Duquesne - Hear from our campus dining team about their fresh, made-from-scratch food and menus, and special options for every diet!
Financial Aid - 
Join members of our Financial Aid and Admissions team as they discuss types of aid available (including scholarships, grants and loans), how to apply, payment plans, and more.
Honors College - 
Interested in learning more about the Honors College? Hear from staff and students about the benefits and opportunities available to you.
Pre-medical and Health Professions Program - 
Interested in attending medical, dental of other health professional school? Then this session is for you!
Residence Life - Hear from our Office of Residence Life about living on campus, roommate selection, and more!